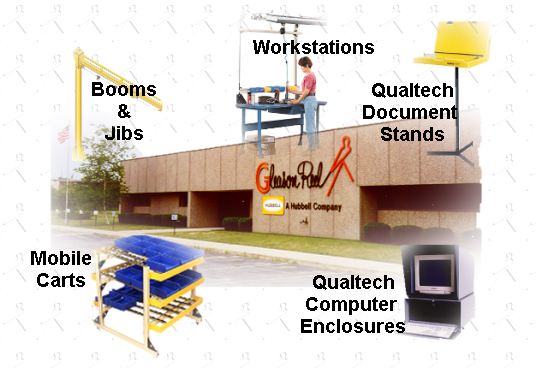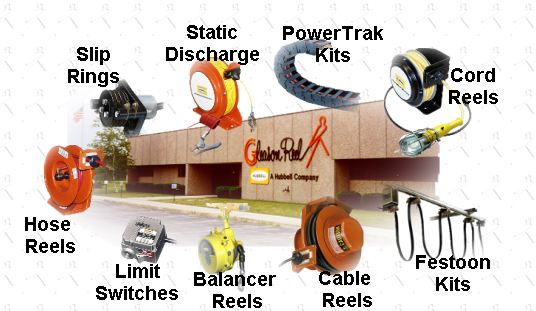 Click on product photo above for downloadable information on the product line. Click below to download the entire Hubbell Workplace Solutions product catalog.

Download the Entire Hubbell Workplace Solution Product Catalog (5.0 MB, 30 pages)
Tool Rails, Balancers, Torque Reels, Retrievers, Swing Arms, Torque Arms, Jibs, Booms, Bridges, Rolling and Structural Rails, Workstations and Lighting Kits, Cable and Hose Reels, Carriers and Festoons, Welding and Grounding Reels, Limit Switches, Data Control Workstands, Workstations and Computer Enclosures.
Links
Hubbell Workstation Kits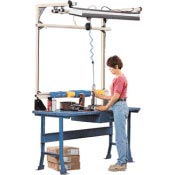 UPDATE YOUR EXISTING BENCH
Easily, quickly, inexpensively retrofit old "beaters" as well as new benches.
Hubbell Workplace Solutions kits contain everything needed to assemble ergonomically sound fixed workstations or mobile productivity boosters.
SINGLE COLUMN KITS are the efficient and economical way to meet ergonomic requirements. Each kit is complete with 180 degree swing or fixed boom, safety hook or balancer trolley and Universal Bracket for mounting everything from an air line fitting to peg board.
DUAL COLUMN WORKSTATION KITS include two straight or one curved tool rail, your choice of three mounting base styles and in a range of heights to fit virtually any bench and any task you have.
TOOL SUPPORT KITS: The basic TOOL RAIL is the "backbone" to which many other tool support accessories attach.

Download Workstation Kit Information (filesize: 1.1MB, 4 pages)
Hubbell Tool Balancers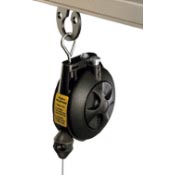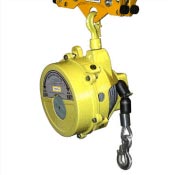 TOOL BALANCERS MAKE TOOLS WEIGHTLESS.
RELIABLE & ECONOMICAL SERIES "BD" TOOL BALANCERS are the economical choice for balancing tools weighing up to 5 lbs(2.3kg). Molded ABS housing has a smooth exterior with rounded edges designed for maximum ergonomic appeal. Series "BD" balancers are the most modern, easiest to adjust, and reliable available. Each balancer incorporates all of the important functions expected of a world class product.
HEAVY DUTY SERIES "BG" REELS feature rugged steel construction with black polyester baked finish, reinforced hanging bracket with forged clevis for ceiling mounting and extra holes for safety chain attachment. Spring is permanently lubricated and provides constant tension, adjustable for balancing tool in normal working zone (6 - 18 in.[152-457mm]). Cable is 920 lb.(414kg) test 0.09"(2.3mm) dia. 7 x 7 strand galvanized steel aircraft cable nylon covered to 0.12"(3.0mm) O.D. Includes safety tool clip and adjustable cable stop.
EXTRA HEAVY DUTY SERIES "BH" BALANCERS (pictured) in various models for tools from 9 to 187 lbs. Balancers feature tapered drums to compensate for spring rate, die cast aluminum housings and automatic safety catches. Spring tension easily adjusted from outside housing without disassembly.

Download Tool Balancer Information (filesize: 368 kb, 2 pages)
Hubbell Workstation Accessories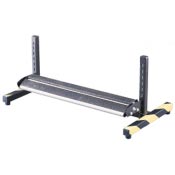 WORK LIGHTS and POWER BARS
POWER-UP.AND PUT SOME LIGHT ON THE SUBJECT Here are fitting touches to your workplace.a fluorescent, overhead work light and a power bar. Both are custom designed for use on Workplace Solutions workstations.
ADJUSTABLE FOOT REST
EASY ON THE LEGS
Seated or standing, your workers can be more productive and more comfortable when a foot rest is used. Fully adjustable and strong enough for heavy industrial applications, it's constructed of steel with extruded aluminum foot bar. Standard model measures 29" wide, 12.75" deep and 12.25" high.
OTHER ACCESSORIES:
MANIFOLD WITH BRACKETS
BIN BAR WITH BRACKETS
SHELVES WITH BRACKETS
AIR LINES

Download Workstation Accessory Information (filesize: 504 kb, 2 pages)
Hubbell Workstation Swing Arms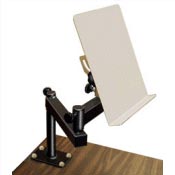 SWING ARMS
Make your workplace user friendly. Available with Document Stand, Bin Rack, Computer Stand and other attachments. Swing arms can be added to existing workstations or benches. Column mounts clamp on any WS50 or similar vertical column. Bench mount can be bolted to any level surface. Arms, elbows and attachments slide together and can be adjusted to provide maximum worker efficiency.least worker strain. Black baked polyester finish (boards natural, beige or white as shown). Max capacity 30 lbs.(13.5 kg), arm alone or arm and elbow together. Use of three or more arms or elbows on one mount reduces capacity and is not recommended. Swing arms, elbows and attachments include adjustable drag brakes. Installation hardware included with column mounts.

Download Swing Arm Information (filesize: 183kb, 2 pages)
Hubbell Workstation Torque Arms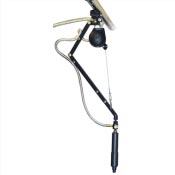 TORQ-ARM for Assembly Tools
Take a step towards OSHA Ergonomics standard compliance by fitting workstations with Torq-ArmT Torque Neutralizing arms and Tool Positioners. Available for either air or electric tools. Light weight anodized aluminum arms support weight of tool and allow easy positioning while preventing transmission of rotational forces to worker's hands or wrists. Units include tool balancer, telescoping positioning arms and rolling trolley for mounting in lateral tool rail on workstation or on bench mounted jib with swing boom (jib included). Electric tool models feature secure tool clamp which may also be used for electric or air powered pistol grip tool. Air tool models feature a U-joint manifold which supplies air to tool and allows vertical and horizontal tool positioning. Tool Positioners feature adjustable tension to support air or electric powered tools from one to seven pounds. Positioners reach 12" to 25.5" from base to pivot point.

Download Torque Arm Information (filesize: 230 kb, 2 pages)
Hubbell Workstation Special Applications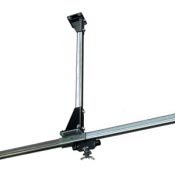 250 lb. CAPACITY RAIL
FOR THOSE HEAVY DUTY APPLICATIONS
Designed for large air tool balancers, these tool rail kits are similar to our W3F and W5F tool support kits but much heavier. Must be supported every 6 ft.(1.8m) minimum to maintain full rated capacity.
RAIL & HANGER KITS
The basic tool rail is the key component on which all accessories hang.
Maximum 250 lb.(113kg) safe load rating.
Galvanized for maximum corrosion protection.
Available in 6, 12 and 18 ft. (1.8, 3.6, 5.4m) lengths.
May be joined for any length.
Can be mounted on walls, benches, floors, booms, or ceiling.
HEAVY DUTY TOOL CRANES 50 lb. or 250 lb. CAPACITY
Rugged bridge crane design concept allows overhead tool handling with maximum safety and minimum cost. Uses proven components rolling in standard WS-50 or WS-60 (steel) or WA-50 (aluminum) rails. 250 lb. capacity unit features doubled tool rail for maximum strength on spans over 6'. To speed installation, trolleys, hangers and tool track bridge are pre-assembled into single units, as is tool rail. Balance reel and tool not included.
CURVED RAIL COMPONENTS
GUIDE TOOLS AND CONTROLS AROUND CORNERS
Unique diamond rail track and matching trolleys allow tools or control boxes to follow assembly line or conveyor path. Curved sections with 3 ft. (0.9m) radius form 90° corner and connect to other curved or straight track sections for smooth, nonstop trolley movement. Design and build your own system from components shown below. Threaded hangers may be hung from overhead beams or from WS50 rail using standard track nut. Trolleys include safety flanges to prevent fall if rollers fail.
WIRE ROPE KITS & TROLLEYS
INEXPENSIVE, FUNCTIONAL WORKSTATIONS
Wire rope trolleys are a highly flexible problem solver. Choose from trolleys for one or two balancers and a trolley with balancer hook and hose connector. Trolley capacity 15 lbs. (6.75kg) per trolley including tool, balancer and hose or cable. System capacity dependent on supporting wire rope. Also available are 3' to 50' (0.9-15m) wire rope kits.

Download Workstation Special Application Information (filesize: 783 kb, 4 pages)
Hubbell Workstation Components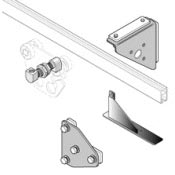 ALUMINUM TRACK
For loads up to 50 lbs.(22.5 kg). Extruded aluminum rail features double tracks (top and bottom), one for trolleys and the other for mounting components or concealing hose or cable. In addition, there is a full assortment of construction brackets designed specifically for aluminum rail. For information on additional assembly brackets, download "Steel Track-50 lb" page below.

Download Aluminum Track Information (filesize: 101 kb, 1 pages)
STEEL TRACK, 30 lb.
For loads up to 30 lbs.(13.5 kg). Separate TOOL RAIL COMPONENTS allow you to quickly and inexpensively build your own work stations, retrofit existing stations or customize a kit.

Download 30 lb Steel Track Information (filesize: 219kb, 1 pages)
STEEL TRACK, 50 lb
For loads up to 50 lbs.(22.5 kg). Separate TOOL RAIL COMPONENTS allow you to quickly and inexpensively build your own work stations, retrofit existing stations or customize a kit. Most components also fit WA-50 aluminum track.

Download 50 lb Steel Track Information (filesize: 219kb, 1 pages)
View Workstation Components Information
Hubbell Bench or Floor Mounted Jibs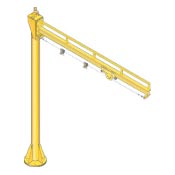 BENCH OR FLOOR MOUNTED, 30 lb. CAPACITY
Jib kits feature standard booms mounted on vertical columns. Jib Kits are available in either fixed or swing designs. The boom may be adjusted higher or lower on the column to suit your specific application. Vertical columns are typically 4 ft.(1.2m) for bench mounting and 7 ft.(2.1m) for mounting on the floor. If floor mounted, the optional support clamp is recommended.
FLOOR MOUNTED, 50 lb.-300 lb. CAPACITY, 6'-18' BOOMS
Jib Kits feature heavy duty I-beam booms or the C-Rail booms. Vertical columns include pre-drilled, gusseted mounting bases. 50 lb. capacity kits are available with either fixed or swing booms up to 18'(5.4m) long. Columns available to 9'(2.7m) high. Booms may be mounted higher or lower on the column to suit your specific application. I-beam boom on 300 lb. capacity jibs is mounted to top of column with tapered bearing and heavy-duty rollers allowing full 360 degree swing. Vertical columns for 50 lb. capacity jibs also available separately.

Download Bench/Floor Mounted Jib Information (filesize: 343 kb, 2 pages)
Hubbell Ceiling Mounted Jibs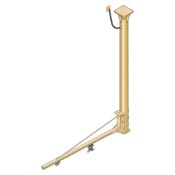 CEILING MOUNTED JIB and TOOL RAIL HANGER KITS
Hanging a tool rail or jib from an overhead structure may be the best way to put a workstation where it's needed. These kits free floor space and allow for greater plant layout flexibility. Jibs have steel WS50 booms in length shown. Hanger kits are designed only for use with aluminum WA50 rail. Rail is not included. All are rated at 50 lb capacity. Booms attach to columns with U-bolts. Vertical columns for jibs include a heavy duty 3 ft.(0.9m) safety chain at the top and safety plate at the bottom to prevent boom from sliding off. Rail hangers include safety straps.

Download Ceiling Mounted Jib Information (filesize: 92 kb, 1 page)
Hubbell Booms and Mounting Bases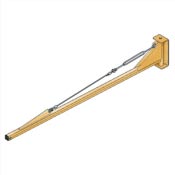 BOOMS and MOUNTING BASES
Tool, Wall or Column mounted. Standard Duty for loads to 30 lbs or Heavy Duty for loads to 50 lbs. Beige polyester finish.

Download Booms and Mounting Bases Information (filesize: 174 kb, 1 page)
Hubbell Mobile Carts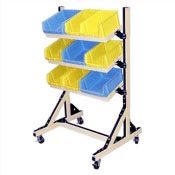 PLACE 'N PICK SHELF CART
Complete kits with three 12"(305mm) deep adjustable shelves are available in 30"(762mm), 42"(1067mm), 54"(1372mm), or 66"(1676mm) widths. Or, if you want to build a custom cart, frame kits allow you to install 12"(305mm) or 18"(457mm) deep shelves and other accessories like Bin Bars on which to hang bins, electric power strips or air manifolds, even swing arms (see workstation accessory page). Maximum capacity 50 lbs.(22.5 kg) per shelf.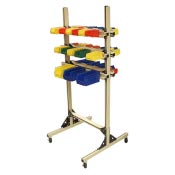 ROLLING BIN RACK
Hang bin boxes on both sides, position cart in the best place for greatest workplace efficiency and ergonomics. Move easily if task or worker changes. Six bin supports may be positioned at desired heights. Bin boxes not included.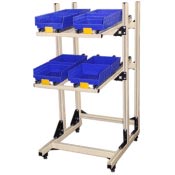 GRAVITY FEED RACK
Semi-permanent (adjustable glides, not casters) designed for supplying parts bins to work areas. Two conveyor levels, each featuring four roller strips, fully adjustable slope and height. Sturdy steel stops prevent bin run-off. Roller strips supported along entire length by WS30 rail.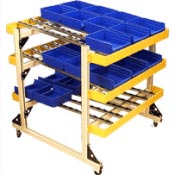 SUPPLY 'N RETURN GRAVITY FEED CART
Three adjustable conveyors supply full bins to assembly area and return empty bins to aisle. Each level may be easily adjusted for optimum slope and spacing. May also be assembled with all three levels sloped toward work area. Adjustable safety yellow bin stops also protect ends of conveyors. Tough baked polyester finish. Optional adjustable side guides (not shown) may be added to keep bins aligned. Bins not included.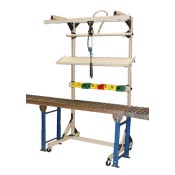 PUSH 'N PLACE WORKSTATION
Here's a way to maintain flexibility on the plant floor without sacrificing safety and productivity. The Hubbell Workplace Solutions Push 'n Place portable workstation rolls easily on four heavy-duty locking, swivel casters. Constructed of strong extruded aluminum rail, it measures 36" deep and 90" high, including casters. Frame is 44" wide o.c., perfect for under a 5' conveyor section or 60" bench. Tool bar is 60" long and can be fitted with splice angles to adjoin two or more units. Bin Bar, air manifold and balancer trolley with fitting plus 3/8" hose are standard. Frame is finished with beige baked polyester. Brackets are matte black. Assembly required. Workstation Accessessories and Swing Arms may be added to further customize unit.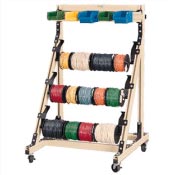 WIRE SPOOL CART
Here's the answer to production or maintenance wiring jobs. Roll the wire to the job, unspool what you need, and return the cart to a convenient storage place. WA50 aluminum rail with formed steel brackets, cart measures 54" high, 36" deep and 33.6" wide with a 27" clear space between spool shaft brackets, which are fully adjustable. Available with four heavy-duty casters (two fixed and two swivel with locks), two fixed casters and two glides or, for semi-permanent installation, with four glides. Swivel casters may be installed at either front or back. All components, except hardware, finished with chip-resistant baked polyester coating. Rails are beige and brackets are black. Assembly required. MAXIMUM CAPACITY: 300 lbs.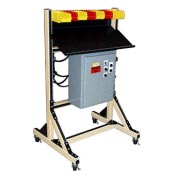 MOBILE TEST STATION
The model HWP-TC01 Test Bed Cart represents the ultimate in versatility. Dual support rails adjust to any size electrical box. Box mounts easily with exclusive E-Z NUT Trak Nuts, furnished. Two coil hangers keep cable off floor while cart is being rolled to the job. Heavy duty shelf easily supports even the heaviest technical manuals. Bin Bar holds box bins for miscellaneous storage. Frame is strong extruded aluminum with beige baked polyester finish. All joining brackets are heavy steel with matte black polyester. Includes four locking, swivel casters and all assembly hardware. Bin boxes, electrical box and cables not included. Some assembly required.

Download Mobile Cart Information (filesize: 253 kb, 2 pages)
Key Benefits
Products Designed to Create an Ergonomically Friendly Workplace
Ergonomics Pay Dividends
Increased Productivity
Reduce Comp Claims and Cost
Improve Employee Morale